Thursday morning began like any other day for those who went to shop at La Bonita Supermarket on Rainbow and Flamingo, only to find themselves experiencing something they did not expect: closed doors.
"I'm hungry." "What time will you open?" "Is it closed?" These were the questions some customers had, without knowing why the store, unlike on other normal business days, had decided to not be open to the public.
Those who got closer to the front doors of the establishment read signs with the following message in Spanish: "The family of La Bonita stands behind the community's cause and movement and in support shall keep its doors closed on Thursday, February 16. Thank you."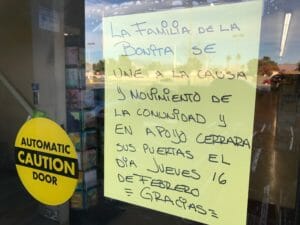 This was part of "A Day Without Immigrants," a protest that began a few days ago and which became the talk of social networks. Stores, restaurants and shops across the United States closed their doors on Thursday, without anyone knowing exactly where it had all started.
Through messages and images on the Internet, the movement urged people not to carry out their daily activities: "Don't go to work, don't open to the public, don't buy on online stores, don't eat out at restaurants, don't buy gasoline, don't attend classes, don't send our children to school."
Omar Villaseñor, a customer who was heading toward La Bonita Supermarket, said he has been living in Las Vegas for nine years and that he remembered a similar protest that surfaced from the movie A Day Without a Mexican, which was released in the U.S. in 2004.
Villaseñor, who declined to comment on where he worked, said that the Latino community was important for this country and, as a believer in God, asked people to have faith because, "He's going to put things right."
Moreover, he affirmed that he agreed with La Bonita Supermarket chain not opening its doors, as he felt that it was in support of the Latinos. Regarding those who did not support "A Day Without Immigrants", Villasenor said that it required everyone to stand behind it, "in order for this country to realize that we also have a voice."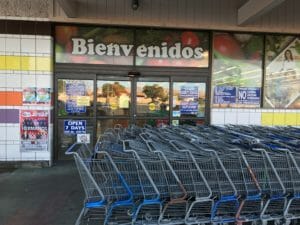 An English-speaking customer who approached La Bonita declined to give her name or occupation, but stated that she did not speak Spanish and that the signs on the doors should at least be written in English so that those who did not speak the language of Cervantes could understand why the store had not opened to the public.
Not everyone thought it was a good idea for stores and restaurants to have decided to stop working. After Ariel Golarte, who works as a Software Solutions Architect for a cybersecurity service company, had read the signs posted on the front doors of La Bonita, he said he was unaware of the meaning of the message.
"I know absolutely nothing of what they are on about with this protest, or the community or the support. Is it for Trump? Then it's contrary to the point. This affects the Hispanic community. I don't understand where the support is for the cause."
After learning the context behind "A Day Without Immigrants," he said he did not agree with La Bonita having closed its doors in response to the protest, as it was a business that serves the community and, in this case, it was the one being affected.
"In other words, 99 percent of people who buy at this store are Latino and most likely many of them are immigrants, regardless of their legal status, and they come here to feel a little bit of Mexico or of their own countries. For example, I am an American citizen, but I was born in Ciudad Obregon, Sonora, Mexico, and I love this store because it has so many things that bring back memories and I come here to eat every day. For me, it's nonsense. This is not the way to protest," he said.
Golarte also said this movement generated more fear and that, due to the lack of information, many people believe that there will be raids, when in fact there aren't any, and that Trump's government "is knocking on everyone's doors to deport them and this is also not happening," he commented.
In this sense, Golarte said, the best way for people to show that they do not agree is to speak to their representative in Congress, or to call senators who represent Nevada and he also added, "but, closing a store that serves the community— it's just nonsense."
Another chain of stores that also closed its doors on Thursday was Mariana's Supermarkets on Sahara and Valley View in Las Vegas. Customers found a mostly empty parking lot with a couple of signs written in Spanish saying:
"In solidarity with all our fellow immigrants, we are closed today, Thursday 2/16/17. We hope to provide our services on Friday, February 17, during our regular schedule. Thank you for your understanding."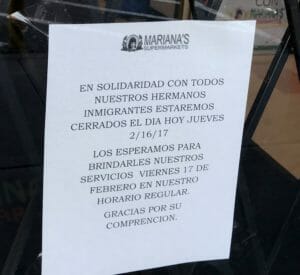 A customer of Mariana's, who declined to give his name but said he worked as a dishwasher, told The Spanish Language Version of The Nevada Independent that President Trump's Government has decided to remove immigrants from the United States, but people like him were here in this country to work.
"There are many who come and get up to no good, yes, there are criminal types, rapists, there's a bit of everything, but most of us focus on our jobs. I did not know that the store would be closed, I wanted to get something to eat, but that's all right. These are the decisions to be made by each store or place," he said.
Apart from stores and restaurants, the Lotus radio stations, which broadcast in Spanish in several cities throughout the United States, chose to do the same, with its radio presenters off the air on Thursday, in support of the "A Day Without Immigrants."
This was the case with Alex Lozano, who works as the on-air talent for an afternoon segment on La Buena 101.9 station in Las Vegas.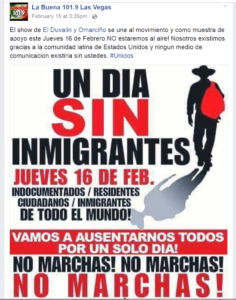 Lozano said that the media, especially the Spanish speaking media, owe something to the Latino community because they are the link joining the voice of Latinos in the United States, throughout its various channels.
"We joined the ranks to make it clear that the United States depends on the immigrant community, on residents, undocumented immigrants, citizens and the children of immigrants. We are a machine that moves the country and sadly not everyone sees it this way," he stated.
The radio presenter also mentioned that it was not easy to make the decision to support the movement, because the message had come through the social networks and they were not sure of its authenticity, but he did say that by the end of Wednesday afternoon they made the decision to do so after having requested the opinions of their listeners, where, he said, the majority agreed that this Thursday La Buena should be without its presenters.