This story has been translated from Spanish and revised from its original version.
A new bill at the Legislature aims at preventing obesity, a health condition that affects roughly one-third of the Nevada population.
SB165 was presented last week by Democratic state Senator Mo Denis, who said the primary aim of the bill is to define obesity as a chronic disease so that it becomes a higher health care policy priority.
Denis said the measure also creates an opportunity to gather data in order to seek federal grants that could be used to help reduce obesity. The bill includes measuring and tracking the weights and heights of 4th, 7th and 11th graders in Nevada.
Denis explained that the bill would not inform children about their weight and height, nor would their names be collected with the data.
"This law is not meant to tell a child that he or she is obese, or not. They are checking various other things and do not tell the children the results," said Denis. "The data is needed just to know what the problem is."
Olivia Díaz, Democratic Assemblywoman for District 11, who also supports the bill, said obesity and associated complications such as heart disease and diabetes are a public health and policy problem that needs addressing.
Díaz agrees data gathering is necessary so the state can determine steps to combat childhood obesity.
Aurora Buffington, a professor with the Department of Nutrition and Health at the University of Nevada Cooperative Extension, agrees there is a serious problem with childhood obesity in Nevada.
"I think the environment and parental stress has a lot to do with it. Parents don't have the time or energy to prepare or buy healthier foods," Buffington said. "If they come home tired and they haven't prepared anything – or if it hasn't even crossed their minds – it is much easier to just go and get their children a Happy Meal. So, cheap and quick, and the child is happy."
Buffington, who is also a registered dietitian, said when collecting obesity data it is important to measure body mass index (BMI) in order to monitor progress and provide information that can help raise and funnel funding into statewide programs.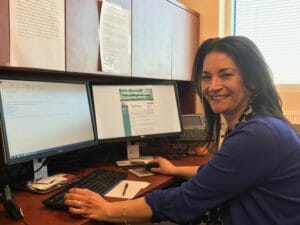 She is concerned, however, that while SB165 could raise awareness of obesity, telling a child that he or she has a "chronic disease" might generate a stigma that could carry over into adulthood.
"I would rather that the law only takes these measurements without the need to declare that it is a chronic disease," said Buffington. "From my point of view, the most important thing is to get these figures on public health."
The data
According to The State of Obesity: Better Policies for Healthier America, a project of the Trust for America's Health and the Robert Wood Johnson Foundation, Nevada ranks 36th among states in obesity rate at 26.7 percent. In Latino adults, the percentage is 30.5 percent.
More than 39 percent of Latino children ages 2 to 19 are overweight or obese, compared to nearly 32 percent of all American children, according to Salud America.
Data from the American Heart Association (AHA) indicates that in the United States nearly 70 percent of adults are either overweight or obese, with one in three children being overweight or obese. AHA data also shows that less than one in every 10 high school students are getting the recommended daily amount of fruits and vegetables.
The 2016 Children's Report Card, which rated the obesity of 9th through 12th grade students according to Body Mass Index, found that 27.2 percent of Nevada high school students are either overweight or obese. The report card ranked Nevada 15th in the country in terms of the percentage of overweight students at 15 percent, and 8th for child obesity at 12.2 percent.
The Children's Advocacy Alliance (CAA), a non-profit organization that provides services in Las Vegas and Reno, gave Nevada a "B-" for the outlook on childhood obesity.
One group is trying to make a difference
Combatting and preventing childhood obesity is the focus of several institutions that have created programs designed to raise awareness and to provide information on a healthier lifestyles for families.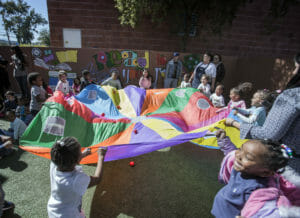 Such is the case with All 4 Kids, a free program for children and their families that has been operating for the last 10 years in Las Vegas. The program is the result of a survey conducted by the University of Nevada Cooperative Extension that assessed the level of childhood needs in terms of both nutrition and motor skills development.
"The outcomes of the evaluation were that children are, let's say, adopting unhealthy eating habits," said Zoraida Caldera, Community Instructor for All 4 Kids. "Also, when children enter kindergarten, they are not prepared in terms of motor skills."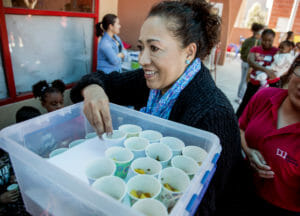 María Araceli Cruz and María Montes are two Nevada mothers with children who have participated in the All 4 Kids program. They say the program has meant a gradual change, but there has been a significant effect for their children, who now can tell the difference between foods that are healthy and those that are not.
All 4 Kids runs in three-month blocks and, depending on the location, consists of three units of 30 to 35 minute classes delivered to children age three and a half to five years of age.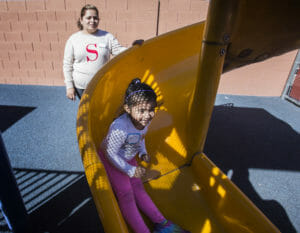 Children dance, learn about foods with which they are not familiar, and receive nutritional materials and activities to take home and complete with their families.
"I think my children are healthy, but I like to get them involved in all things to do with exercise. I liked the classes because they teach awareness to children," said Cruz. "I cook them their vegetable soup and chicken broth, now, and once a month I say, 'Now I'll go buy you your pizza."
Caldera stated that the main prerequisite to be a part of All 4 Kids is for parents themselves to have the desire to participate and learn, and "to have an open mind to introduce eating and exercise habits being taught by the program."
The program is delivered at schools and also holds an annual festival in September, which is National Childhood Obesity Month.
More action plans
Efforts to prevent obesity and to encourage healthier lives in the Silver State are the aim of other institutions including the American Heart Association (AHA), which has several programs and strategies that assist with education about the selection and preparation of food.
One such initiative is Teaching Gardens, a healthy garden program targeted at elementary school students. This project is described as a "real-life laboratory", where children learn how to sow seeds, harvest and cook food, as well as understand its nutritional value.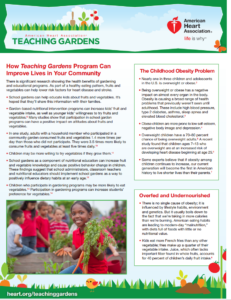 Mimi Parkerson, Coordinator at Teaching Gardens in Las Vegas, said participating Valley elementary schools are Crestwood, Whitney, Ruben Diaz, and Robert Taylor. The four are Title I schools, meaning they receive federal subsidies due to high numbers or high percentages of children from low-income families.
Subsidies and sponsorships make it possible to build Teaching Gardens in elementary schools, which have an implementation cost of $25,000 each, according to Annarella Jordán, Director of Multicultural Initiatives for AHA.
Jordán also works on "Teens Cook with Heart", an initiative that consists of high school workshops and cooking classes centered on healthy meals.
When the workshops come to an end, the schools participate in a healthy recipe competition that is analyzed and graded by judges based on the application of information about preparing healthy meals.
The prize for the winning school students is to cook their recipe for the AHA annual event – Flavors of the Heart – as well as an internship at a restaurant in Las Vegas.
The University of Nevada Cooperative Extension, along with the Chefs for Kids Foundation, is also currently running the Pick a Better Snack program, which teaches healthy snack options to children from second and third grades, according to Aurora Buffington.
"The instructors who go to the classrooms are also working with school welfare coordinators to help with the implementation of this policy," Buffington said.