Nevada is seeing a notable leveling out of initial unemployment claims after months of soaring numbers, and the number of people filing week after week has dropped sharply after more generous federal benefits went away.
The Nevada Department of Employment, Training and Rehabilitation reported on Friday that 10,938 initial applications for regular benefits were filed in the week ending Aug. 15. That's the lowest level since mid-June, in the wake of casino reopenings.
Similarly, the number of applications filed to the Pandemic Unemployment Assistance (PUA) program designed for gig workers and self-employed people is at its lowest level since the program began in May. The pattern of those filings has been far more erratic than under the regular program, but hit a low of 12,356 initial claims last week.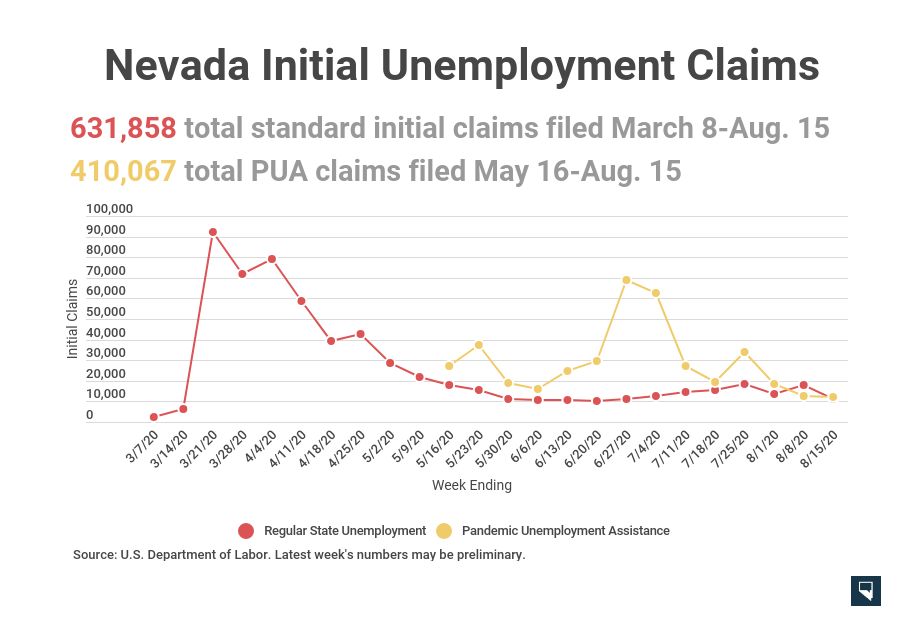 The number of people filing continued claims week after week in the regular unemployment program dipped sharply last week to 240,346, a drop of nearly 29 percent from the week earlier and putting the figure at levels not seen since April. Continued claims had remained high in the first week that Nevadans were no longer able to claim the $600-per-week Federal Pandemic Unemployment Compensation (FPUC), then dropped sharply the second week the benefit was gone.
While some beneficiaries were eligible for more than $1,000 a week when FPUC was available, benefits now max out at $469 a week for both regular unemployment and PUA. On Friday night, DETR officials said they were conducting a final review on a proposal from President Donald Trump to allocate a $300 add-on unemployment payment using Federal Emergency Management Agency (FEMA) dollars if states provided matching funds.
They said they expected to make a decision early next week.
In the PUA program, continued claims also dropped further to 109,617 last week. But programs for people who have exhausted their base benefits and are still unemployed, while still small, are growing.
There were 19,798 continued claims to the Pandemic Emergency Unemployment Compensation (PEUC) program last month, up about 1,800 week over week, and 1,477 continued claims to the extended benefits program, which supports people who have exhausted regular and PEUC benefits and is up 373 week over week.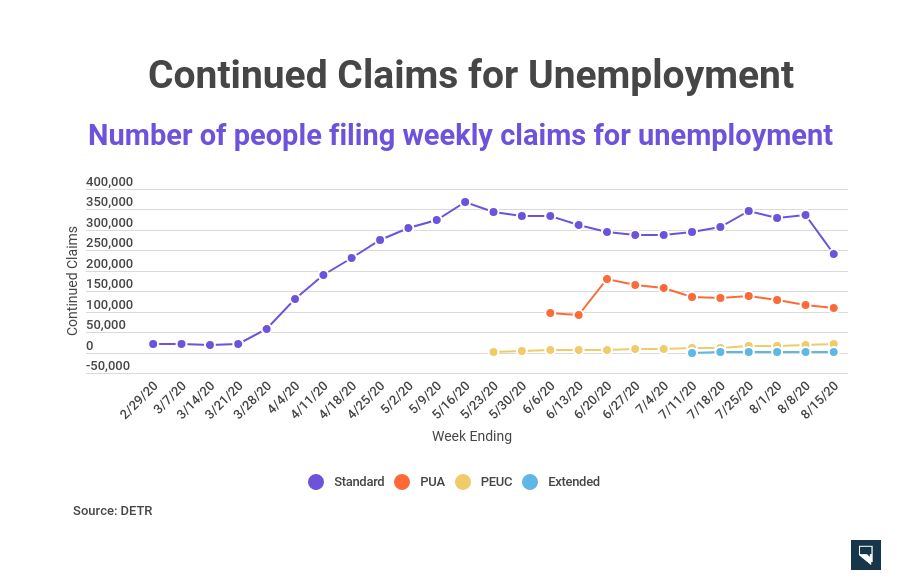 The "insured unemployment" rate, which reflects the percentage of people who are eligible for standard unemployment who are claiming it, dropped to 17.3 percent, the lowest it's been since late April.
The unemployment trust fund had $366 million at the end of last week, enough for four more weeks of benefits, and DETR says it's likely Nevada will start borrowing from the federal government in September to keep benefits flowing. Ten states are already borrowing and another eight have been pre-approved to tap into federal loans in August.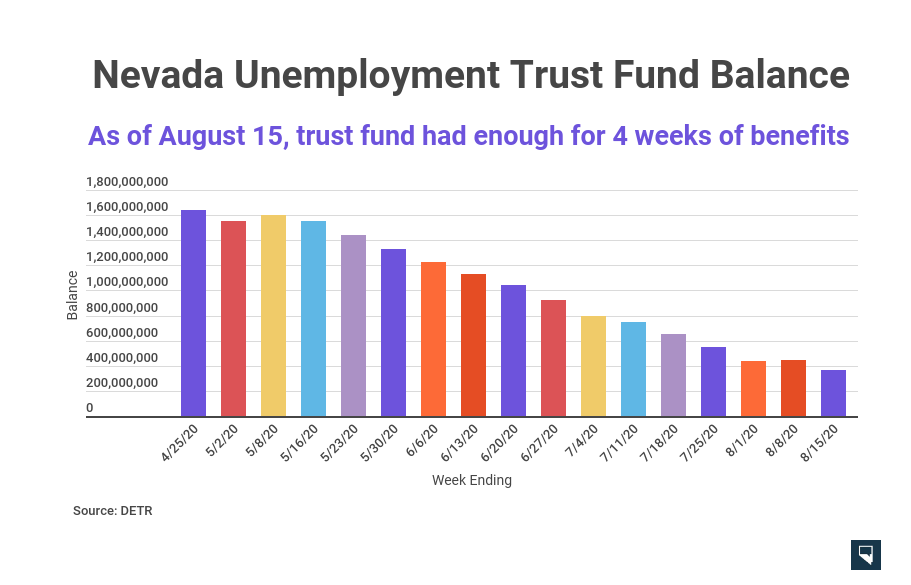 The Friday update comes on the heels of DETR announcing earlier in the week that the statewide unemployment rate for July was 14 percent, down 1.2 percentage points from a month earlier. That's well above the national unemployment rate of 10.2 percent.
That widely understood figure, updated monthly, is about half of what it was during Nevada's pandemic peak. It comes as the state added 14,800 jobs in July, a slowdown from June when 98,900 jobs were added.
"While almost half of the employment lost was recovered in June, jobs were added back at a much slower rate this month," DETR officials said in a statement. "Although most businesses are now allowed to reopen, significant hurdles such as social distancing restrictions, continued business closures of bars and entertainment/sporting events, and financial losses from the last several months will limit the pace of our recovery going forward."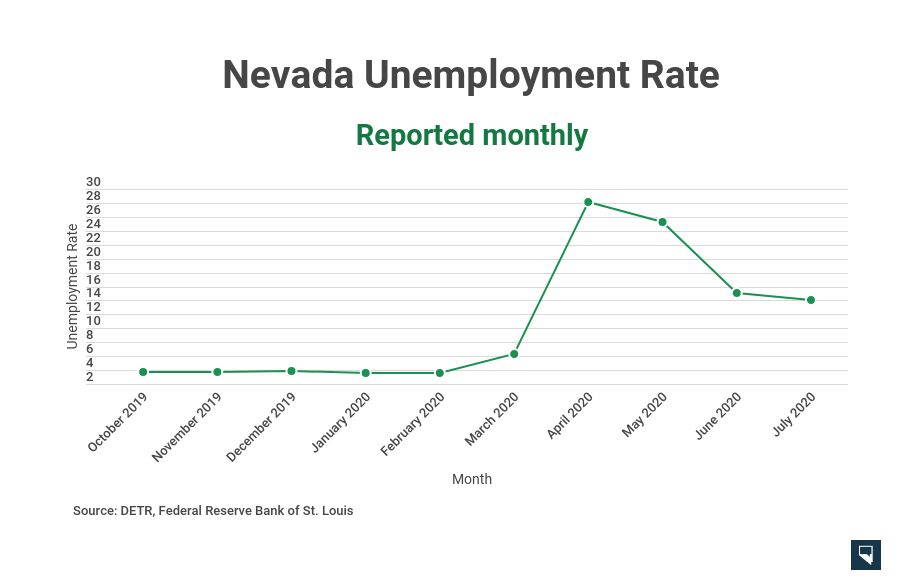 Second rounds of shutdowns, such as mandated closures of bars in certain counties in an effort to slow the spread of COVID-19, have also been a roadblock to recovery.
"I am encouraged Nevada is continuing to recover the jobs lost due to the COVID-19 pandemic and some people are able to return to work," DETR Acting Director Elisa Cafferata said in a statement. "We still have a long way to go."