The head of the Nevada division that oversees unemployment benefits will be going on extended leave and two former executives within the agency are returning to fill in the gaps.
Elisa Cafferata, acting director of the Nevada Department of Employment, Training and Rehabilitation, said Friday that Employment Security Division Administrator Kimberly Gaa will be going on leave, although she said she couldn't offer further details on the circumstances because it is a personnel matter.
Stepping into that role on a contract basis will be Jeffrey Frischmann, who was previously the deputy administrator of the division.
Scott Kennedy, who retired earlier this year from his job as unemployment insurance operations chief, will return on a contract basis to replace the acting deputy administrator of the Employment Security Division, Brian Bracken, who is retiring next week.
The leadership changes are the latest within the agency as it has faced record-shattering demand for its services and had well-documented struggles getting payments out to all eligible claimants. DETR is on its third director in the last six months and has had turnover among its high-ranking leadership.
"We are moving forward with and excited to have Jeff and Scott able to jump in and help," Cafferata said in an interview with The Nevada Independent.
Unemployment statistics
The number of people drawing unemployment benefits week after week continued a slow decline last week, although Nevada's jobless situation remains among the worst in the nation.
Here are highlights from the latest report, which reflects the week ending Aug. 29.
The number of initial claims for unemployment through regular unemployment and federally funded Pandemic Unemployment Assistance keeps declining and reached a new pandemic low last week. A sizable chunk of those applications are "additional" claims, meaning the applicant is reactivating their benefits after a recent period of having a job.
There were 8,032 initial claims in the regular program and 10,411 to PUA, the program for gig workers and self-employed people, last week.
To date in 2020, there have been more than 1.1 million initial unemployment claims filed through both programs. That's out of a workforce of just under 1.5 million people; an unspecified number of those claims could be fraudulent or duplicates, defined as one person applying to both programs.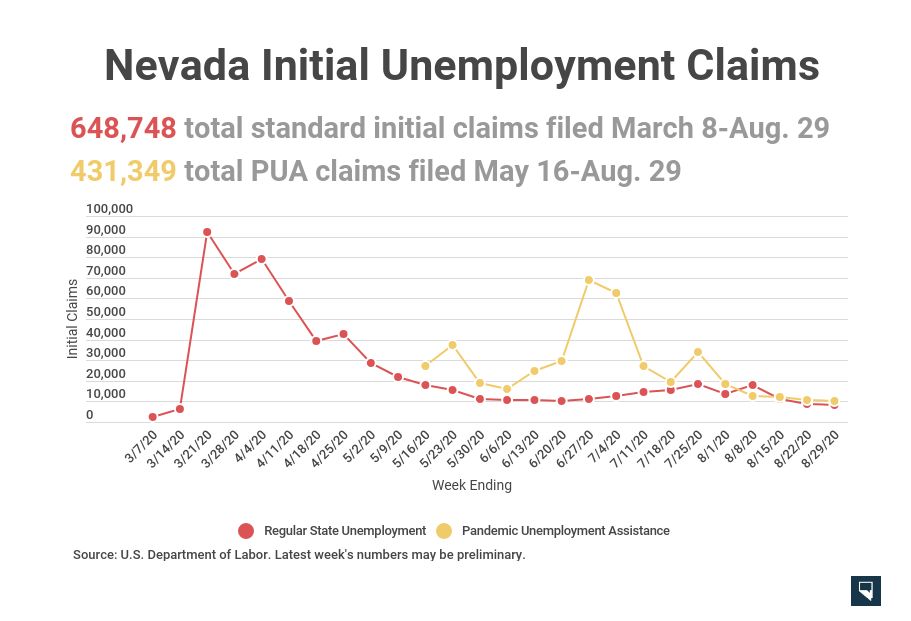 Continued claims — the weekly application that comes after an initial unemployment claim to certify a person is still out of a job — also trended downward last week in the two primary unemployment programs. But the numbers are on the rise for Pandemic Emergency Unemployment Compensation and an extended benefits program, both of which serve people experiencing long-term joblessness who have exhausted their initial allotments of benefits in the base programs.
Between the four programs, there were 352,840 continued claims filed last week. That's a drop of 6,400 continued claims from a week earlier.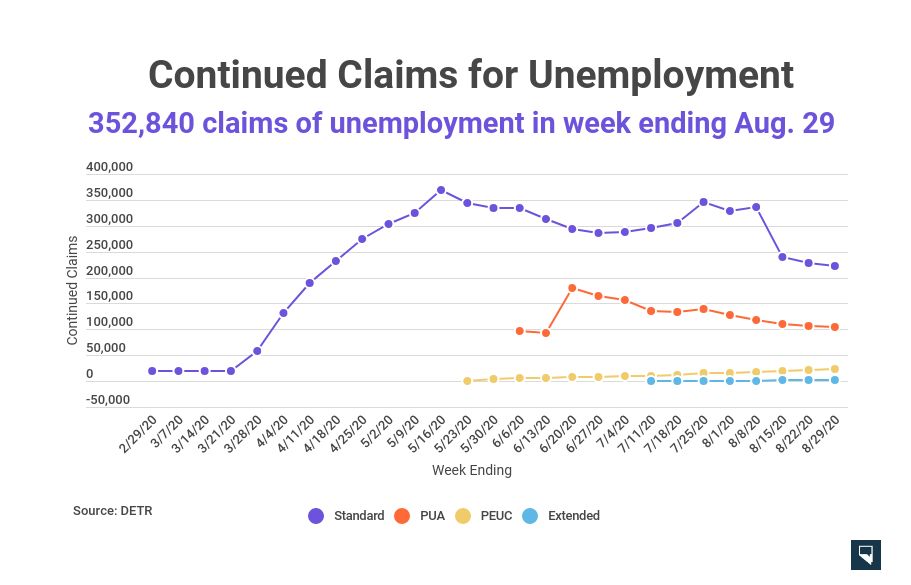 A metric based on continued claims — "insured unemployment" — ticked down in Nevada from 16.4 percent to 16 percent last week.
The figure represents the percentage of people eligible for regular unemployment who are drawing benefits.
The most recent national insured unemployment rate, from the week ending Aug. 22, was 9 percent. Nevada's rate remains close to twice the national rate, and only Hawaii, California and Puerto Rico have worse rates.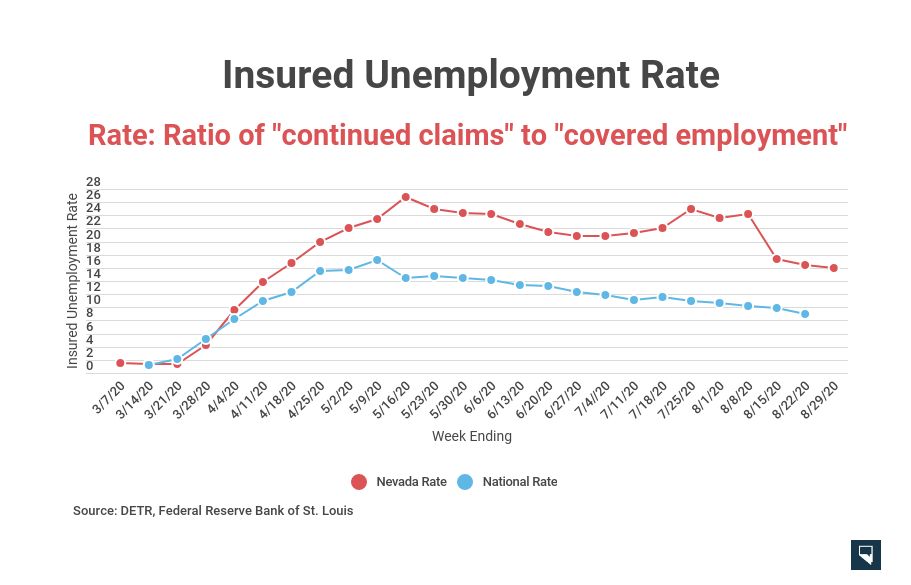 The state's trust fund balance dropped to about $230 million by the end of last week, which is enough to pay out four weeks of benefits at the current rate. Nevada expects to borrow from the federal government if the fund runs dry.
The raw amount of money being administered through DETR sharply declined after the federal government stopped $600-per-week bonus payments a month ago, and it keeps declining. DETR pushed out a little less than $97 million in payments last week, down from a peak of nearly $600 million in a single week and the first time the weekly payout has dipped below $100 million since mid-April.
While the state has not provided information about the number of individual claimants who are being paid through any of the programs, nor information about how many claims are deemed fraudulent or ineligible and how many are legitimate but caught in a backlog, it did report that it paid nearly $15 million to PUA recipients last week.
Cafferata said that she expects an online dashboard with more granular information about the state of claims processing to be ready to share next week, but she declined to provide an estimate on the size of the backlog on Friday.
"It's important to give good numbers and good information," she said. "That's part of us working on rebuilding the trust."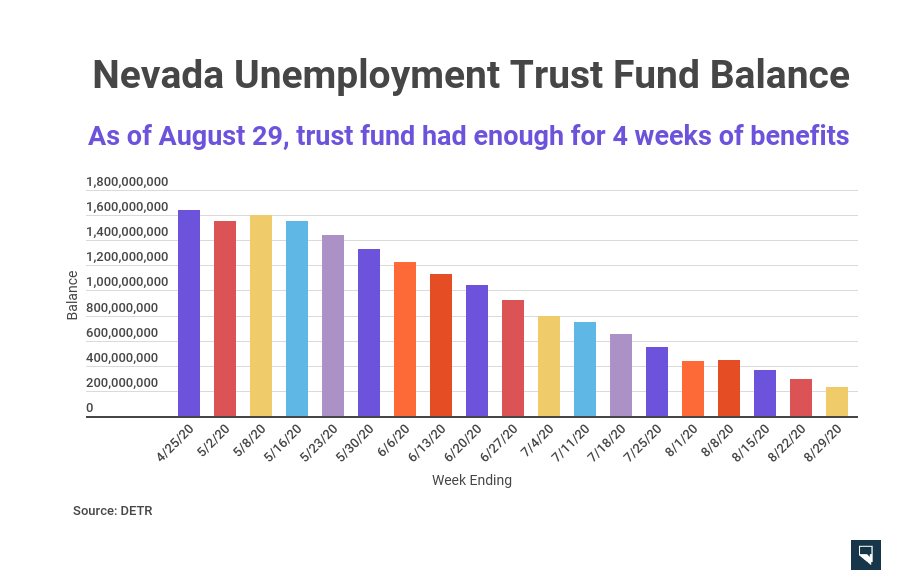 Nevada announced this week that it had submitted an application Tuesday for the Lost Wages Assistance program that provides a $300-per-week federal bonus to claimants for at least three weeks.
Cafferata said state officials spoke Friday with representatives of the Federal Emergency Management Agency (FEMA), from which the funds are derived, to provide the agency follow-up information it needed.
She said she expects FEMA will act quickly on the submission.
So far, 45 states have already been approved for the program. Cafferata said the state didn't make the decision to apply for several weeks because it wanted to analyze all costs of the move and submit that to the governor — a process that happened while the agency was also trying to finalize its future budget proposal on a deadline and had vacancies in its fiscal management division.
Nevada officials have warned it could take several weeks after approval before claimants see money. People must be receiving at least $100 a week from regular unemployment or PUA to qualify, and their unemployment must be tied to COVID-19.
But Cafferata said the timing of Nevada's application should not prevent it from receiving funds.
"All of the conversations we've had, and the information that's come back from FEMA, is there's going to be enough money in this grant for Nevadans who qualify," she said.