Nevada job-seekers who don't possess any post-secondary education will increasingly find themselves in a bind as the state's economy diversifies.
Fifty-four percent of the state's jobs require some sort of advanced education, but only 30 percent of Nevada residents age 25 or older have a post-secondary degree, according to a report recently released by the United Way of Southern Nevada.
In other words, Nevada residents can no longer rely on graduating high school and nabbing a decent-paying job at a casino or other workplace without any additional education. The Great Recession jumpstarted efforts to diversify the state's economic landscape, but now the trick is preparing students to enter those new career fields.
As the United Way's report shows, a lot of work remains. The percentage of Nevada residents with a post-secondary degree lags behind seven other Mountain West states, including Arizona (35.5 percent), Utah (40.2 percent) and Idaho (34.4 percent).
"We do realize that we're behind," said Allison Stephens, vice chair of the Board of Regents, which governs the Nevada System of Higher Education. "We're doing our best to keep up with that changing dynamic."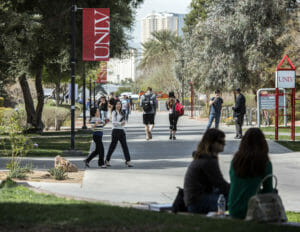 The United Way of Southern Nevada leads Mission Achieves, a nationwide effort to increase the post-secondary attainment rate to 60 percent by 2025. The goal mirrors what Gov. Brian Sandoval announced in his State of the State address — that roughly 60 percent of all Nevada jobs will require some form of post-secondary education or other credential by 2025, so he wants the state's workforce pipeline to match or exceed that coming reality.
In Clark County, 15. 7 percent of residents age 25 and older have an education level that's less than high school; 29. 1 percent graduated high school or have an equivalency degree; 32.9 percent completed some college or have an associate's degree; and 22.2 percent have a bachelor's degree or higher.
Stephens said boosting those post-secondary numbers will require better messaging to students — for instance, letting them know about options such as community college and apprenticeship programs that are training people for jobs in high-demand or burgeoning fields. Some of the in-demand fields that require a post-secondary degree or credential include health care, advanced manufacturing and information technology.
"Sometimes when kids think of going to college, they automatically think of that traditional university experience and that doesn't work for everyone," she said. "And then they take college off the table."
Increasing the number of high school students who complete the Free Application for Federal Student Aid, known as FAFSA, could improve Nevada's workforce balance as well, said Takiyah Butler, a coalition manager for the United Way of Southern Nevada. That's because students who submit a FAFSA are generally more likely to pursue further education after high school, she said. The financial aid they receive in return could give them the extra nudge to enroll.
The agency's research found that the average FAFSA submission rate at neighborhood schools in Clark County is 37.9 percent. More students who attend charter or career and technical academies in Clark County submit a FAFSA.
The United Way also supports dual-enrollment programs that allow high school students to take courses that give them college credit. Those are examples of where colleges and universities can work with local school districts to better align their strategies to "give kids a very clear pathway" after high school graduation, Butler said.
If Senate Bill 19 passes, the number of dual-enrollment programs across the state could expand. The bill would require school districts and charter schools to enter into cooperative agreements with community colleges or universities to offer dual-credit courses. The State Board of Education also could not "unreasonably limit" the number of dual-credit courses taken by a student.
Once students enroll in college, state officials are encouraging them to take 15 credit hours per semester rather than the 12 credit hours often required by federal financial aid. Fewer than 1 in 4 Southern Nevada college students graduate within six years.
"Research shows that if they just take that extra class, they're much more likely to graduate," Stephens said.
Lawmakers in Carson City, however, have been debating whether to lower the 15-credit hour requirement for the need-based Silver State Opportunity Grant. Democratic Assemblywoman Olivia Diaz has proposed a bill that potentially would open the grant up to more students by easing the credit-hour requirement.
The post-secondary education issues highlighted by the United Way report echo what Nevada business leaders recently named as a primary concern. Fifty-one percent of 200 business leaders surveyed by Bank of Nevada cited the "quality and availability of the workforce" as the most pressing challenge facing state businesses.
As the state works toward remedying the situation, Stephens said it's about more than just ensuring that residents earn a decent wage.
"What we want is for people to be able to advance and move forward," she said. "That's where having a degree can really make the difference for someone."
Caption: People walk the UNLV campus on Thursday, Feb. 02, 2017. Photo by Photoprises LLC.