City and county officials are opening a temporary shelter east of Downtown Reno, almost a week after a Washoe County judge dissolved a restraining order halting the site's construction as the city moves away from using an empty convention center as a shelter.
Unsheltered individuals will be able to move into the space, which has capacity for about 165 people, beginning Tuesday evening. Along with the new shelter, people will also be able to stay at the Community Assistance Center (CAC) on Record Street and at Our Place, a newly opened shelter in Sparks with case management services for women, children and families experiencing homelessness.
The combined shelter spaces will be able to house around 600 people — a little more than the number of people who have stayed at area shelters in the last couple of months.
"This allows us to maintain our current capacity and basically shelter people who have been sheltering in the Reno Events Center," Acting Assistant City Manager Arlo Stockham said during a media tour of the site on Tuesday morning. "Our longer-term focus, and it's a very important one, is we really need sufficient shelter space for every unsheltered person, for their benefit and for the city's benefit."
The 20,000-square-foot shelter consists of a series of connected pre-manufactured vinyl tents similar to what a wedding party might use with floors that fit together like puzzle pieces. Work crews sanitized and brought over mattresses from the Reno Events Center, placing them in a grid pattern with about six feet of space between each one. Portable toilets, a trailer containing six showers and a meal site are located nearby.
According to a presentation Stockham gave at a Community Homelessness Advisory Board meeting, the total projected cost of the shelter is $258,998. Funding for the shelter comes from the CARES Act.
The shelter will open at 7 p.m. each evening and close at 7 a.m. the next day. Though there are no air conditioners, Stockham said that the tent flaps can be lifted and evenings are cool enough that officials do not anticipate any problems associated with overheating. However, there is money in the budget to purchase swamp coolers or fans if temperatures inside the tents get too high.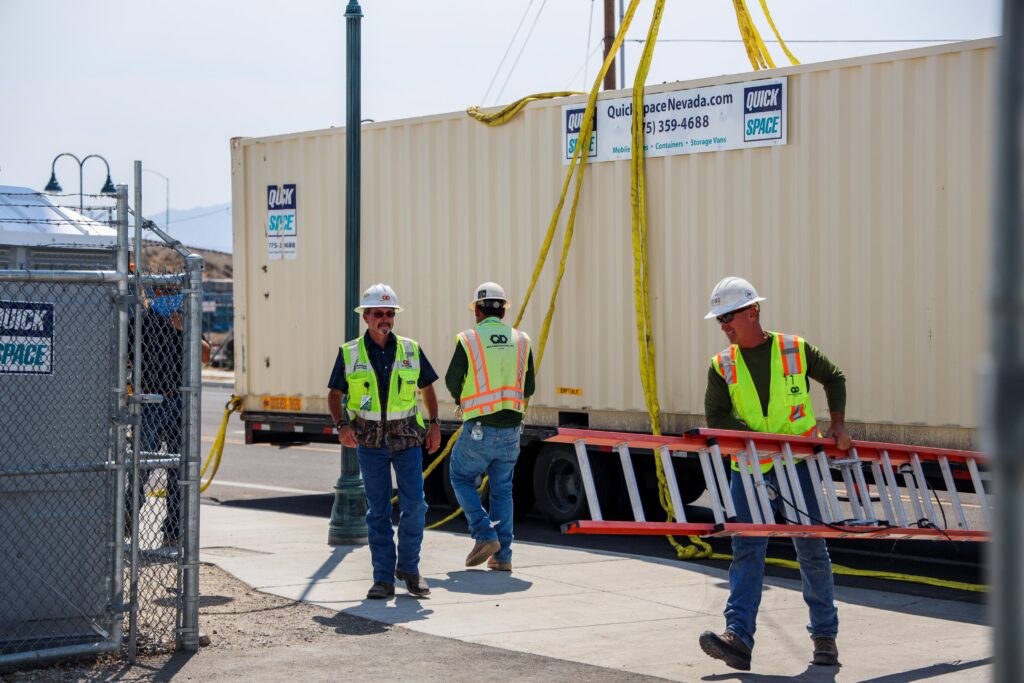 During the day, unsheltered populations can go to the Governor's Bowl Park, a baseball field near the temporary shelter that officials are opening up to the public as a park. The city is also setting up shade structures along with hand-washing stations and portable restrooms at the park.
City officials emphasized that the shelter is temporary and estimated that it will operate for about four months until they can set up a permanent site, hopefully before the start of winter.
The move into the new temporary shelter arrives as leaders prepare to close the shelter at the Reno Events Center, which was launched in March to alleviate crowding in shelters that are usually at or over capacity and to facilitate social distancing during the pandemic. The closure was prompted by a now-rescheduled event at the convention center and the city's desire to use that space for tourism that might help spur the economy, although a statewide cap on events larger than 50 people remains in effect indefinitely.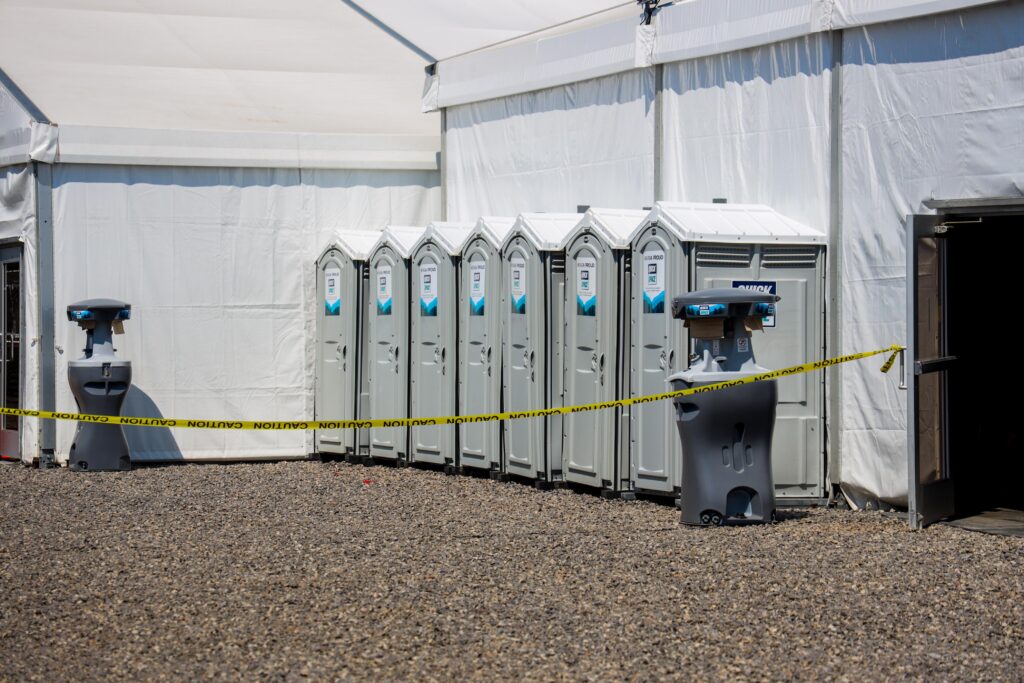 Though officials planned to move into the temporary shelter last week, a restraining order blocking the plan was issued after a local businessman sued the city for lack of appropriate notification and alleged that the shelter would irreparably harm his nearby storage business. The case is still in court and there will be an evidentiary hearing within the next 60 days to review whether the tent-style shelter presents any potential harm to nearby property owners.
Stockham said he is not worried about the decision, and added that the process to set up the shelter was similar to that of the emergency shelter at the Reno Events Center and other facilities created to mitigate the spread of COVID-19.
"We're pretty confident that we're well within our rights and it was actually necessary to do it this way to protect public health and safety," he said. "The argument of the lawsuit is basically that a permanent use would require a special use permit ... However, that takes about four months to complete. And essentially we'd be putting people out on the streets if we waited that amount of time before putting up an emergency shelter."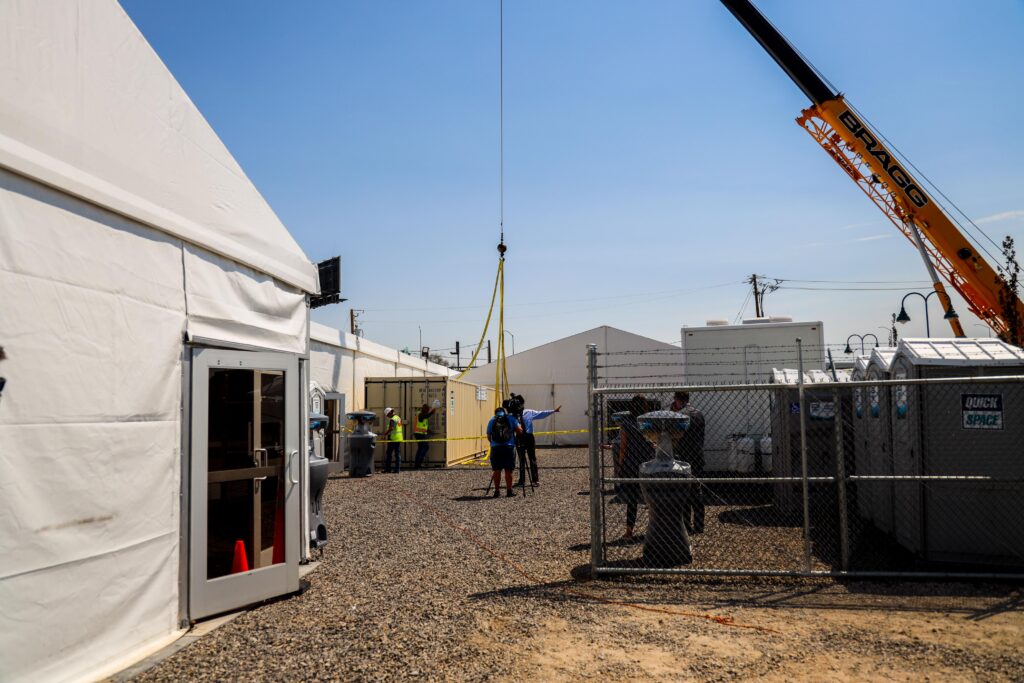 The location of a permanent site is still under consideration Stockham said, noting that the site has to meet Reno regulations for homeless facilities, requires about 8 or 9 acres and ideally will be close to existing services for homeless people. He said the city is working on a plan to construct a permanent shelter at the Governor's Bowl Park, but nothing is finalized.
"Ideally we can have that shelter space at a consolidated site, where the various support services are available and can be in proximity. That's where the Governor's Bowl is really good in that respect," Stockham said. "It's sufficient in size and a good location where we can accommodate everyone, but until we get there we're going to be in numerous locations and doing the best we can in a difficult situation."