Some came toting signs with phrases such as "Love Always Wins," "Respect Our Planet" or "Women's Rights are Human Rights." Others wore pink caps or carried American flags.
But they all shared a common mission — to make their voices heard a day after President Donald Trump took office.
More than 15,000 people showed up to rallies Saturday in Reno (10,000) and Las Vegas (5,000-plus), according to law enforcement estimates. Promoted as women's marches, the demonstrations were part of an international series of gatherings, including one in Washington, D.C. that attracted more than 500,000 people, centered on promoting women's rights and equality following the change in leadership in the nation's capital.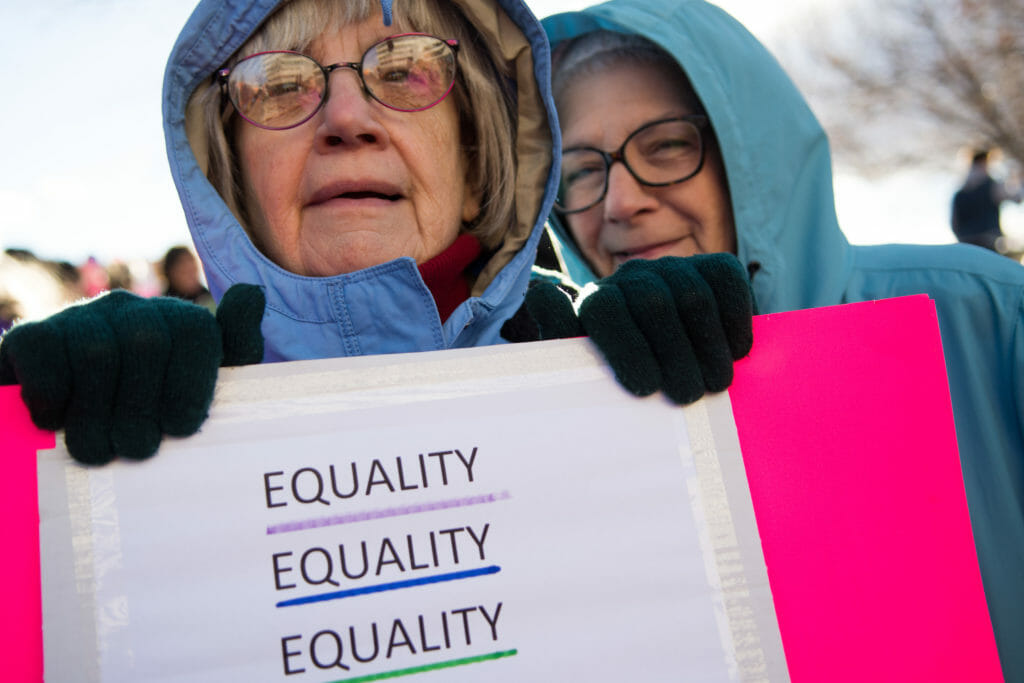 Event organizers in Nevada said they were thrilled with the turnout across the state.
"I am so proud, I can't even explain it," Reno organizer Tanja Hayes said. "I've never seen anything like this in Reno. This is the biggest march we've ever had, and I'm beyond thrilled to live in this community."
A sea of people had gathered in a downtown Las Vegas parking lot more than a half-hour before the march kicked off this morning. The group included people of all ages, genders, races and ethnicities — as well as some of their canine companions — who eventually marched a half-mile south to the federal courthouse.
"If you look at our crowd and look at how diverse it is and look at the inauguration crowd yesterday, it's totally different," said Susan DeAndrea, 57, of Las Vegas. "We're stronger when we have the mindset of allowing people to be different than us."
A 9-year-old Hispanic boy in Las Vegas pointed out those differences in a sign his older sister helped him make. The writing on the neon yellow sign, nearly as tall as him, said, "Young, Brown and Proud to Stand for Women's Rights."
The marches were just two of several hundred taking place across the country around the world. Other major protests were planned in Boston, New York and Los Angeles.
As the attendees marched west on Fremont Street and south on the famed Las Vegas Boulevard, they chanted, "Stronger together, we won't fall. Justice, peace and equality for all!"
The camaraderie of the moment drew people like Felicia McCormick, 46, who brought her mother and three daughters — ages 15, 14 and 12 — to the Las Vegas march. The mother and her girls wore matching pink bandanas and marveled at the size of the crowd.
"I love the fact that women around the world are standing," she said. "For me not to come here would have been an injustice."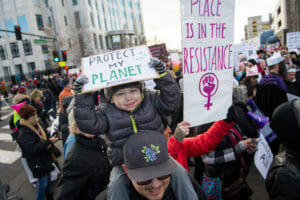 But it wasn't just women who braved the cold weather in Reno or crisp Las Vegas air to attend. Plenty of men stood alongside their female friends, girlfriends or wives.
"These same issues affect men, too," said Darrell Cooppedge, a 65-year-old Las Vegas resident. "Besides, we are all one country."
The event stoked a sense of nostalgia within Cooppedge, who donned a T-shirt that said "free hugs" on the front and "love vs. hate" on the back. He participated in 1960s-era marches in California and couldn't help but see similarities.
Cooppedge said he has many fears going forward, including how women and people with disabilities will be treated. "It seems like we are in the same time now," he said.
State and local leaders joined the throngs of people marching in both cities, and some spoke at the rallies' final destinations.
Congresswoman Dina Titus, standing outside the federal courthouse in Las Vegas, said she had a lump in her throat as she watched former President Barack Obama bid goodbye to the White House yesterday. And, after she watched Trump's inaugural address, only one thought crossed her mind: "Oh, hell, we gotta do it."
She was referring to fighting back and trying to preserve the rights some feel are at risk under the new administration.
"I feel empowered," she said, looking out over the crowd. She urged participants to keep marching and write letters to their elected representatives. "Today is the first day for campaign 2018."
Her words elicited enthusiastic cheers from the crowd in a state that, unlike many across the country, elected Democrats in many key races.Trump lost Nevada to Hillary Clinton by about 27,000 votes out of more than one million cast in the state.
A large chunk of Nevada voters are already unhappy with Trump's performance as a public official. According to The Independent Poll taken between Jan. 12 and 15, 41 percent of voters said Trump is doing a "poor" or "only fair" job, compared to 32 percent who characterized his performance as "excellent" or "good," with 27 percent saying they don't know.
It's too soon to tell what effect, if any, the demonstrations will have on public policy shaped by the newly elected leaders. But Laura Anderson, a special education teacher in Las Vegas, said the large turnouts at least send a strong message.
"Plus, with social media nowadays, it's not easy to just go away," she said.
This story has been updated with arch numbers for Las Vegas and Reno.