It's almost showtime for upper-grade students at Priest Elementary School in North Las Vegas.
Starting in April, third-, fourth- and fifth-graders will file into the school's computer labs and hunker down to take statewide standardized tests. They're often referred to as SBAC tests because Nevada works with the Smarter Balanced Assessment Consortium, a group of states that develop the tests to align with Common Core standards in English language arts and mathematics.
While all Nevada students in grades three through eight take the assessments, the stakes are higher for the state's lowest-performing schools such as Priest: If students do well, it could mean a higher star ranking, which, in turn, could prevent the school from facing charter takeover.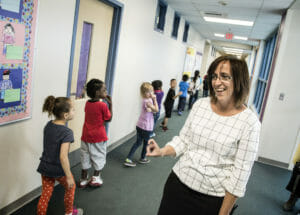 "We, as a school, are providing these students a wonderful education," Principal Pamela Hays said. "I don't believe anyone else could do a better job."
But the staff knows that its success is largely measured by students' test scores. That's why Hays and her teachers have planned a celebratory atmosphere — complete with a pep rally, extra decorations, motivational messages and upbeat music — to pump up students for the tests.
Simply put, they don't want the looming tests to cause the children any stress. They want them to feel empowered by what they've learned this year and, thus, eager to prove it in the computer lab.
"What drives us is creating learners for life," Hays said. "If you talk to an 8-year-old, they do not necessarily care about a test. And if you talk to a 34-year-old about what they remember about elementary school, it's not a test."
Will it work?
***
Priest Elementary School's story starts in 2003. That's when it opened in a largely residential area near Simmons Street and Alexander Road in the northern Las Vegas valley. Just beyond the streets lined with stucco homes lie suburban mainstays such as Ross Dress For Less, Great Clips and Smith's.
This is not the city's poor urban core, but most families aren't flush with cash in this area. Priest is a Title I school, where nearly 80 percent of students qualify for free and reduced price lunches. Many students come from single-family households or ones where both parents work.
"It's kind of a camouflaged school," Hays said. "You drive and think, 'This is nice.' Then you come and see these are students who have needs and wants just like everyone else. We have to supply a little more to them. They do come in with lower academic skills."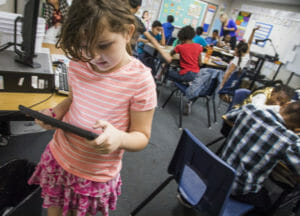 It also carries the unwanted distinction of being a one-star school because it performs among the bottom 5 percent of all elementary schools in the state. The ranking is based on state testing data from the 2013-2014 academic year. Because of software glitches with the SBAC testing the following school year, the state has not released updated rankings.
Priest's lackluster student performances prompted the Clark County School District to consider it for inclusion in the Turnaround Zone — a program launched five years ago that's designed to rapidly improve the district's most-struggling schools. A subsequent external review of the school, conducted by a team from the district's central office, found a number of problems after teacher interviews and classroom observations. Among the takeaways from the report:
The school's curriculum was not consistent and it lacked focus.

Teachers didn't consistently use data to drive their instruction methods.

Cooperative student learning groups were rare, as teachers did most of the talking.
The district designated Priest a turnaround school starting in the 2015-2016 academic year. Hays, who had only been principal for several months when the review process began, said she welcomed the opportunity, partially because it infused extra dollars into school-improvement efforts.
Priest received about $250,000 during its first year in the turnaround program. The school used that money to upgrade its computer inventory as well as hire one additional teacher and two building support strategists, who create professional development plans and help teachers collect student learning data, among other duties, Hays said.
The turnaround designation also gave Hays the chance to revamp staffing. Frequent teacher turnover had long plagued the North Las Vegas school, so Hays said she set out to find staff members committed to the diverse student population — about 48 percent of the students are Hispanic and another 28 percent are African American  — and ones willing to adapt to students' needs. Seven staff members were assigned to different district schools as a result of the turnaround process.
There's a term that Hays uses often when describing the Priest culture nowadays. It's "resiliency."
For teachers, it means they can't solely rely on what a textbook or education program says will work for students. "They need to be out-of-the-box thinkers and say, 'I know my students and need to make changes to this lesson,'" she said.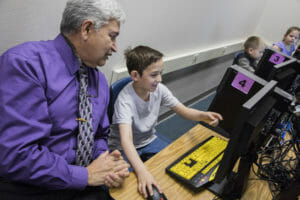 Data drives those decisions. Students take monthly computerized tests to measure their math and English language arts proficiency levels, Hays said.
Colorful spreadsheets and charts line a bulletin board inside the school's main office. It's all data from those monthly assessments, which track  students' progress or setbacks in those subjects.
Overall, Hays said students have notched double-digit gains in both their math and English language arts proficiency levels since the beginning of the school year.
The data isn't solely for staff. Teachers also share that information with their students. For instance, in a third-grade class, a bulletin board contains character cutouts — gingerbread men for December, snowflakes for January and hearts for February — that show students' mastery levels in those subjects. It's a visual reminder of their progress.
"They are a stakeholder in their improvement," said Jeffrey Geihs, associate superintendent for the Turnaround Zone. "It's not to create stress or tension. It's to create rewards for kids when they see their progress."
***
The district has enrolled 29 schools in the three-year turnaround program since it launched.
Thirteen have successfully exited the program, meaning the elementary and middle schools earned a three-star ranking and high schools achieved graduation rates above 60 percent. (The lone exception is Sunrise Acres Elementary School, which exited as a Victory School at a time when no state testing data was available to determine star rankings. Victory Schools have large numbers of students from low-income households and receive extra state funding to address their needs.)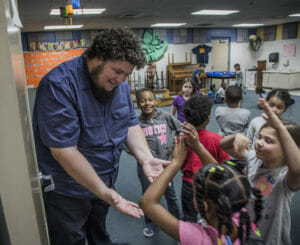 Geihs points to those results as rationale for why the district hasn't embraced the state's Achievement School District, which links struggling schools with a charter operator or transformational team. The district also rejected the Nevada Department of Education's offer to enter its lowest-performing schools into a so-called Student Performance Compact.
"Every school that has gone through the turnaround process has not been included on the state's Rising Star list because they have been effectively treated," he said.
How to improve the lowest-performing schools has been a source of tension between state and local officials in recent months. Clark County officials have voiced displeasure with what it perceives to be a power grab on behalf of the state, ignoring ongoing improvement efforts like the district's Turnaround Zone.
Greg Bortolin, a spokesman for the Nevada Department of Education, said the state views itself as a partner that's only trying to help local districts improve struggling schools. The Achievement School District is just one slice of a broad range of improvement reforms, he said.
"We hope that what the district has put in place and what they're focusing on will bear some fruit," he said.
Bortolin expects the state to release updated star rankings in the fall. When that happens, Geihs said he's confident Priest — and other turnaround schools — will show large academic gains that take them out of consideration for the Achievement School District.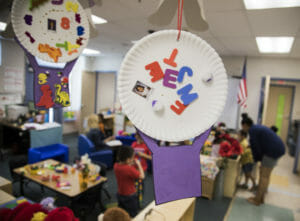 It's a sentiment shared by Tiarre Tenorio, president of Priest's Parent Teacher Association. She helped resurrect the parent group two years ago and has watched it grow to more than 100 active members. Her third-grade daughter will be one of those students taking the SBAC tests this spring.
"I know we're going to perform better," she said. "I know the students have been working hard, and I know the teachers have been working hard, so I just don't even see that as being a possibility."
Earlier this year, Tenorio's boyfriend turned down a job offer in Los Angeles. They didn't want to uproot and change schools. Priest certainly has ample room for improvement, she said, but it's not sliding backward either.
"I wouldn't put my child in a school that I thought was terrible for her," Tenorio said. "I'm committed to Priest."
Feature photo caption: Fourth-grade students sit on the floor during a math lesson at Richard C. Priest Elementary School in North Las Vegas on Tuesday, March 21, 2017. The Clark County School District included the school in its Turnaround Zone after being one of the lowest-performing elementary schools in the state. Photo by Jeff Scheid.