Good morning, and welcome to the Indy Gaming newsletter, a weekly look at gaming matters nationally and internationally and how the events tie back to Nevada.
Please click here to sign up and receive Indy Gaming in your inbox.
---
Fitch Ratings gaming analyst Colin Mansfield waited in line patiently to sample a specialty item offered by Boon Tong Kee, one of the 17 eateries in Famous Foods Street Eats inside Resorts World Las Vegas.
With more than 3,000 guests invited to a private celebration of the $4.3 billion hotel-casino – a few hours before the newest Strip resort was opened to the masses on June 24 – the lines at the property's bars and restaurants were jammed.
Mansfield toured the development earlier that week. He came away impressed with the detail Resorts World owner, Malaysia-based Genting Berhad, put into the project.
"(The) casino floor felt like a Singapore property and contained a formidable mix of food and beverage outlets," Mansfield wrote in a research report provided to the investment community on July 8 that discussed the overall Las Vegas recovery following more than a year of pandemic-related closures and operating restrictions.
"We're not overly concerned with 3,500 incremental rooms hitting the market as it represents only an approximately 2 percent increase to existing supply,' Mansfield said of Resorts World's three hotel brands that are licensed from Hilton Hotels and are part of the company's reward program. "The property is a welcomed addition to the north end of the Strip and performance will ramp up as connectivity improves and international visitation returns."
The Fitch Ratings report updated the company's findings from October 2020, which predicted the nation's largest gaming market may experience a slower than anticipated recovery that carries into 2024.
Mansfield said Las Vegas could return to the 2019 pre-pandemic levels by 2023.
"Strong domestic leisure gaming is picking up the slack from non-existent international visitation and soft convention business, leading Fitch Ratings to revise its recovery assumptions to reflect our most positive outlook for the Strip," Mansfield wrote.
Compared to 2019, Fitch expects Las Vegas Strip gaming revenues to be down 20 percent when the books are closed in 2021, and down 6 percent in 2022.
"Slowing vaccination trends in the U.S. and uncertainty regarding viral variants drives some conservatism in our forecast notwithstanding the strong spring performance," Mansfield wrote of the Strip's nearly 27 percent gaming revenue jump in May, compared to May 2019.
The Fitch report was published before the recent uptick in positive COVID-19 cases, which caused the Southern Nevada Health District to recommend that both unvaccinated and vaccinated people wear masks in public settings.
Mansfield also toured the recently opened 1.4 million square foot West Hall expansion of the Las Vegas Convention Center, which cost $1 billion. He suggested the new space "offers a differentiated expo-type experience." He doesn't believe it will cannibalize convention business from Strip casino operations with large convention and meeting space.
"Convention demand at the Las Vegas Convention Center will support room bookings and foot traffic to North Strip properties, specifically Wynn Las Vegas and Encore, and Resorts World," Mansfield wrote.
The reason behind Fitch's revised, more positive Las Vegas outlook is that demand for the market has increased month over month since the beginning of 2021, including the acceleration that began when capacity levels were increased to 50 percent in the spring. By June 1, all capacity limits were removed.
Mansfield cited Gaming Control Board numbers that showed slot machine wagering had recovered to 2019 levels by March and were up more than 23 percent in May. Strip table game wagering, which relies somewhat on baccarat gamblers from international markets, was only down just 14 percent in May.
While Fitch's revised outlook might prove conservate given operating trends, the potential for renewed pandemic restrictions "amid slowing domestic vaccinations and uncertainty regarding viral variants" was factored into the consideration.
"A continuation of current positive trends through the fourth quarter would give Fitch greater confidence that the recovery is sustainable," Mansfield wrote.
Fitch isn't alone in its positive assessment of Las Vegas.
Truist Securities gaming analyst Barry Jonas and Global Market Advisors partner Brendan Bussmann, in a monthly update, thought the Resorts World opening brought "new energy" to the Strip, and primarily the north end.
But could that same energy fuel a construction boom?
"Resorts World has stated that they are already looking at expansion of the existing site," they said.
At the same time, the much-maligned and unfinished Fontainebleau development – an eyesore since construction was halted in 2007 – could finally be finished with new ownership on board, including the real estate arm of Koch Industries.
The other site is the vacant 38-acre "Wynn West," located across the Strip from Wynn Las Vegas. The property was purchased in 2014 by Wynn Resorts for $336 million. The site once housed the Rat Pack-era New Frontier that was imploded in 2007 to make way for a multi-billion-dollar luxury resort. That property, dubbed Plaza Las Vegas, never came to fruition after the economy tanked.
"No solid plans for the next resort have been announced," Jonas and Bussmann noted.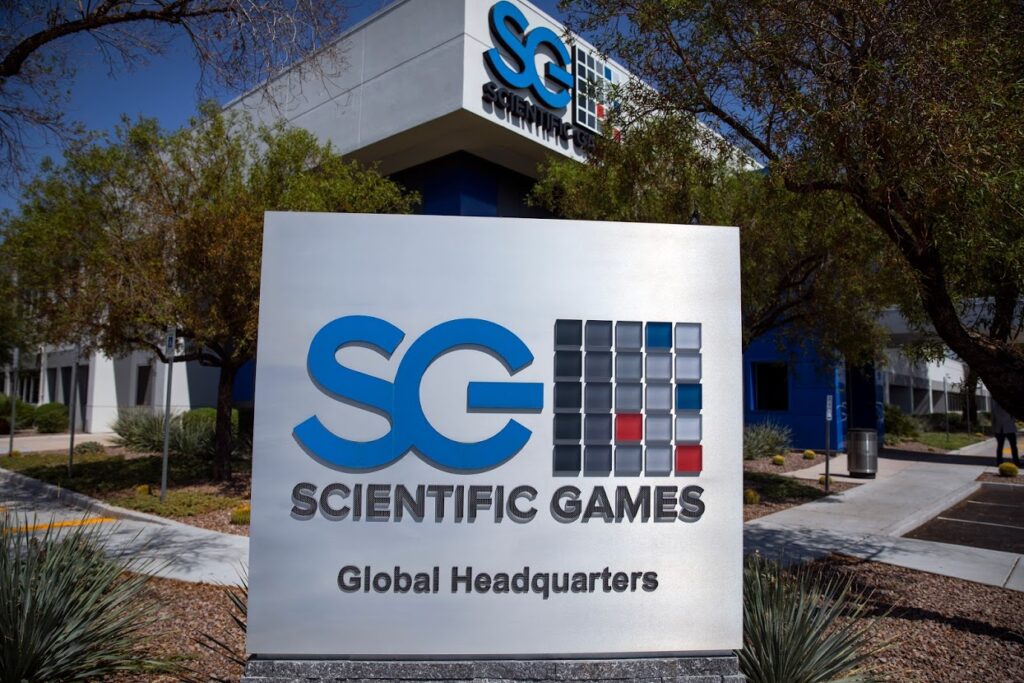 Scientific Games seeks total ownership of its social gaming spin-off
Two years after Scientific Games spun off its social game development arm into a separate public company, the Las Vegas-based gaming equipment provider wants to bring the business back into the fold.
The move coincides with an announcement two weeks ago that Scientific Games intends to sell its legacy lottery business and a sports betting operation the company spent millions of dollars to develop.
In its announcement, Scientific Games said it would focus its business on three areas: the games division that provides gaming equipment and management systems to the casino industry; development of its online gaming business; and the growth of its social gaming subsidiary, SciPlay.
Scientific Games retained 81 percent of SciPlay when it spun off the company in 2019. The move to take back the remaining 19 percent was made in an offer letter last week by CEO Barry Cottle. He told the board of SciPlay that this was the only deal the company – and largest shareholder – would vote to approve.
"We would not expect … to vote in favor of any alternative sale, merger or other corporate transaction involving SciPlay nor divest or sell any portion of our ownership interest," Cottle wrote.
In SciPlay's initial public offering, Scientific Games' 19 percent stake was valued at $16 per share. The company offered to buy back that stock for $17.02 per share. Shares of SciPlay, traded on the Nasdaq, have been as high as $21.74 a share in the last year.
Stifel Financial gaming analyst Jeffrey Stantial called the announcement, "the end of a short-lived experiment with SciPlay as a publicly traded company." Strategically, acquiring the remaining shares aligns with Scientific Games focus on gaming content and investing in digital growth opportunities.
Jefferies gaming analyst David Katz said there will probably be "some public wrangling" when SciPlay shareholders pursue a higher price. But he expects the deal to ultimately close. SciPlay has a licensing agreement for Scientific Games content, which expires next June.
"We consider this arrangement a key aspect of SciPlay's total value," Katz said.
Scientific Games conducted a "strategic review" of its five corporate operations last year in an effort to reduce a daunting $9.2 billion in long-term debt that has been hanging over its balance sheet. Much of the debt goes back to the company's $5.1 billion acquisition of slot machine giant Bally's Technologies in 2014.
Katz predicted proceeds from sales of the two businesses could eliminate more than half of the company's overall debt.
Other items of interest:
The stock price of Las Vegas-based gaming equipment provider AGS hit a 52-week high of $11.32 on June 11 on the New York Stock Exchange. B Riley Financial gaming analyst David Bain believes there is much more value in the company. Based on discussions with the manufacturer's major tribal casino operators, Bain suggested recurring slot revenues – games in which AGS shares the proceeds with casino – have risen. Bain, who increased his stock price target for AGS to $21 a share, the company has increased its installation of the premium games ahead of then many tribes normally finalize their slot machine budgets. "We note a vast majority of AGS' domestic participation games are in Oklahoma, Texas and Florida – states with customers less psychologically impacted by (COVID-19) Delta variant fears, in our view," Bain said.
The World Series of Poker's online version – WSOP.com – is now operating in Pennsylvania. The platform has been live in Nevada and New Jersey. In addition to real money cash games, WSOP.com offers satellite tournaments where players can win seats at World Series of Poker, including the $10,000-buy-in No Limit Hold'em World Championship event at the Rio. The live tournament, which took a year off and went totally online in 2020, will be held Sept. 30 through Nov. 23 at the off-Strip Rio Casino Resort.
Casino operator Bally's Corp. and the WNBA's Phoenix Mercury announced a sports betting and sponsorship partnership, the first such agreement between a gaming company and a women's professional sports team. The agreement will land the BallyBet sports betting brand in Arizona, the company's 15th state for market access. Bally's will, among other things, host and manage an online and mobile sports betting service in Arizona, operate a retail sportsbook in the vicinity of the Phoenix Suns Arena and promote its business in connection with Phoenix Mercury games.
The Nugget Casino in Sparks donated $25,000 to the John Ascuaga Memorial Scholarship Fund at Bishop Manogue Catholic High School in honor of the property's late founder. Ascuaga, who died on June 28 at age 96, developed the small casino into one of Northern Nevada's largest resort properties. He was considered "a pillar" of Northern Nevada's gaming community. The property is now owned by Las Vegas-based Marnell Gaming. "We felt it would be a fitting tribute to follow his tradition of contributing to education in the community," company CEO Anthony Marnell III said. "We appreciate all he did for education in Northern Nevada and the Memorial Scholarship Fund is a great way to honor his legacy."